Working Papers for Teens Now Digital in New Jersey
May 15, 2023 | posted by Abacus Payroll
As of June 1, 2023, working papers for teens in New Jersey will be available in digital format. This new online process will help streamline the way that teens apply for and receive the required paperwork for working their first job.
This online application and more information will be available at MyWorkingPapers.NJ.gov.
What Employers Need to Know
Employers seeking to hire a minor must register online to receive an 8-digit code that they will then share with every minor they intend on hiring. From there, the teen can head to the online website and use their desired employer's unique code to complete the application. The New Jersey Department of Labor (NJDOL) will then notify the business once the application has been approved. Note that employers with more than one location will be assigned a unique code for each worksite.
Minors that have been approved and fully authorized to work this year using the former paper system do not need to reapply on the online system . If the minor was in the middle of the process and not receive authorization before June 1st, then the youth worker must apply through MyWorkingPapers.NJ.gov.
The NJ Working Papers Process [PDF]  
A Background on State Working Papers
All minors under the age of 18 who work in New Jersey must have an employment certificate, also known as "Working Papers," or a special permit. Prior to June 1, 2023, students typically received blank working papers from their local school district. Some working students over the age of 18 may be required to fill out the forms if their employer requests proof of age.
New Jersey's Working Paper process protects the rights and safety of youth workers. The process used to be handled by the New Jersey Department of Education and with the switch to digital, comes a switch in who oversees this process. As of June 1st, the New Jersey Department of Labor (NJDOL) now oversees and administers Working Papers for minors.
Note that ALL minors working in New Jersey below 18 years of age will need to apply for Working Papers and receive authorization to work. This applies to seasonal minors employed only during the summer, and also to minors working in agriculture, who previously only needed Working Papers until 15 years of age.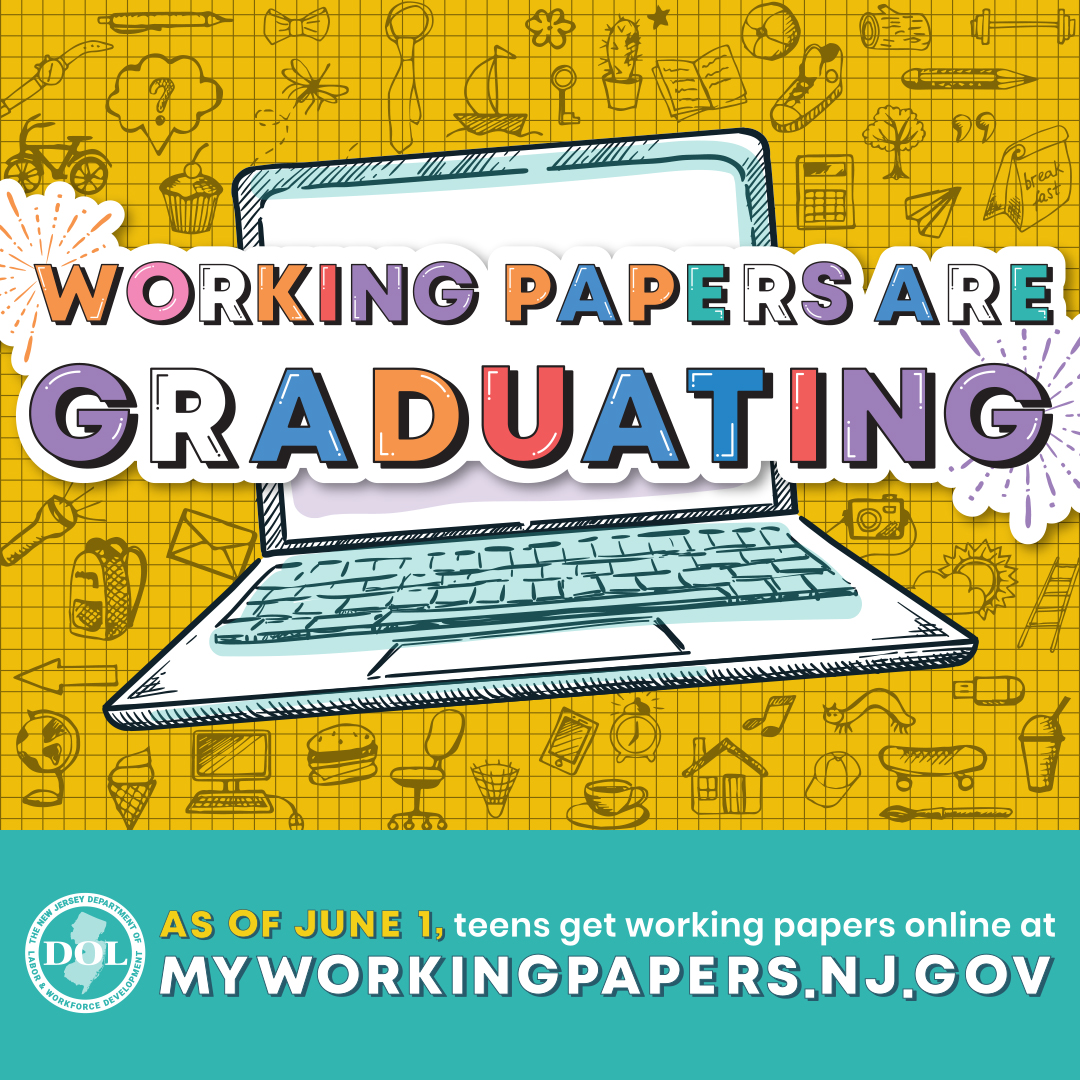 NJ Industry Exceptions
If you are a minor, depending on your age, and whether you will be working in agriculture, newspaper carriers, or theatrical employment, you may need to get a special permit (A310 Combined Certification Form for Agriculture, Newspaper Carrier, Street Trades or Theatrical Employment).
Newspaper Carriers
Minimum age: 11 years old
11 to 15 years old: must obtain a special newspaper carrier permit
16 and 17 years old: must obtain an employment certificate
Theatrical
Minimum age: none
Under 16 years old: must obtain a special theatrical permit
16 and 17 years old: must obtain an employment certificate
Agriculture
Minimum age: 12 years old (If you are over the age of 12, you may work 10 hours per day and 6 days per week during the hours you are not required to be in school.)
12 to 15 years old: must obtain a special agriculture permit.
As of June 2023, ALL workers under the age of 18, including those in agriculture, must apply for Working Papers.
16 years old and up: you may work 10 hours per day and 6 days per week during school hours
Regarding agriculture duties for young workers: If you are under 16, you may use standard domestic type machines, office machines, standard types of poultry feeders, egg graders, egg washers, egg coolers, and milking machines. If you are 16 and up, you may also drive tractors and operate all machinery except power-driven woodworking machinery, grinding, abrasive, polishing or buffing machines, guillotine action cutting machines, operation or repair of elevators or other hoisting apparatus, corn pickers, power-driven hay balers or power field choppers, compactors, circular saws, band saws and guillotine shears.
Rights and Protections for NJ's Young Workers
New Jersey's Child Labor Law protects minor workers under the age of 18 by limiting the number of hours that can be worked and the type of work that can be performed. Among other requirements, the NJ law states:
All minors working in NJ must have an employment certificate, also known as "working papers," or a special permit for each job they work.
All minors must be given a 30-minute meal break after 6 continuous hours of work. Breaks less than 30 minutes do not count as an interruption of continuous work.
Minors may not work more than 6 consecutive days in a week.
Workers under 16 may not work more than 40 hours a week and 8 hours a day, with certain exceptions for agricultural work.
During the school year, minors under 16 may only work outside of scheduled school hours.
Workers 16 and up may work up to 50 hours in one week and up to 10 hours a day only between the last day of school and Labor Day.
Minors still qualify for the state's paid sick leave law (One hour of earned sick leave for every 30 hours worked, up to a maximum of 40 hours of leave per benefit year.)
Workers under 18 are entitled to minimum wage in the following jobs:
Retail
Food service (restaurant)
Hotel/motel
Beauty culture
Laundry/cleaning/dyeing
Light manufacturing apparel
First processing of farm products
Workers ages 16 and 17 are only eligible for overtime in the following jobs:
First processing of farm products
Seasonal amusement
Hotel and motel
Restaurants
Overtime pay is set at 1½ times a worker's regular hourly wage for hours worked over 40 hours per week. In any other job, workers ages 16 and 17 can work up to 50 hours per week, but are exempt from overtime rate.
Going Forward
The NJDOL is campaigning to ensure that every school official, teenager, parent, and employer knows about the new process so that no teenager experiences a delay in obtaining working papers.
Hiring teen employees and mentoring young workers for part-time help in your seasonal business, restaurant, retail shop or other small business is a smart workforce development decision.  If you need assistance with streamlined payroll, overtime compliance, timekeeping solutions, onboarding services, or more, reach out to Abacus Payroll, Inc. today at 856.667.6225.
Additional Resources:
Source: New Jersey Department of Labor and Workforce Development
---
About the Author: Abacus Payroll
Abacus Payroll, Inc. is a leading provider of payroll solutions for businesses of all sizes. Whether yours is a family-owned small business or a national corporation, we provide payroll, tax and other financial services on time and at an affordable price. Unlike other payroll providers, Abacus Payroll will assign your very own payroll specialist who will understand your payroll needs inside and out. So no more speaking to a different person each time, no more sitting on hold for hours and most importantly no more missed deadlines!
Contact us
today to see how we can help your business. You can count on us.